Find Your Voice: The Speak Up, Sing Out Revue! – Auditions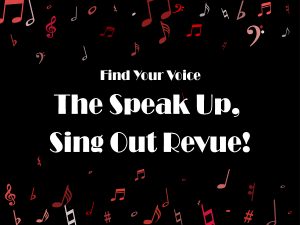 Are you looking for a way to get your child involved in the community? Looking to spark a love of the stage, and overcome fear of speaking up for what they believe in?
Join us for an educational theatre program, designed to inspire community involvement in students through the arts. We will be combining original monologues written by the students with songs from popular shows such as Hamilton, RENT, Newsies, Tick Tick Boom, and more! Students will participate in community service projects throughout the program, and proceeds from their performance will go to charities of their choosing!
The performance will be on May 25 at 5 PM.
Rehearsals will be every Saturday from 2 to 5 PM.
Price Per Program
Current Students – $75
Non-Students – $100
Follow us on Instagram at @DSRocksDram
And on Facebook at www.facebook.com/DramaatDSRocks/
Ticket Price
Event Location
35 Lafayette Square, Haverhill Ma