Be A Hero, Rock to End Animal Cruelty!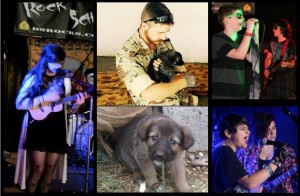 Be A Hero, Rock to End Animal Cruelty! is our latest DeAngelis Studio Youth Band Benefit Concert, and we're very excited about it!  10 of our talented youth bands from DeAngelis Studio will come together to raise funds to support SPCA International and their work to save our military's special friends from war.
It all began when a group of teens read the story of Dushka & Chris on Facebook, and rallied their teachers and fellow musicians to action for this very important cause.  When they learned about Chris and his plea to save an innocent puppy from the war torn streets of Iraq, they were touched and wanted to help. Once they found out Dushka was coming home to Massachusetts, they knew they wanted to meet the pair! DeAngelis Studio and their students, teachers and families support local charities throughout the year by organizing Youth Benefit Concerts, and with the many animal-lovers at the school, working with the SPCAI for this cause was a perfect fit!
The event will feature our 10 talented youth bands, a silent auction, a presentation by SPCA International, and a special guest visit by Dushka's family and maybe even Dushka herself!
Tickets: https://www.eventbrite.com/e/be-a-hero-rock-against-animal-cruelty-tickets-20740730082
Click here to view our Silent Auction Items .
SPCA International works tirelessly to help animals all over the world, whom without their help and amazing support here at home in America, would have a very uncertain future. For more information about SPCA International, or to learn how you can help, visit them online at www.spcai.org
Event Date
March 6, 2016 - March 6, 2016
Ticket Price
Event Location
Hard Rock Cafe, 22-24 Clinton St, Boston, MA 02109