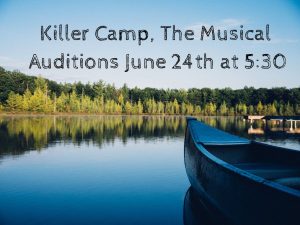 Date: Auditions June 24th – Performances August 27th & 28th
Time: Fridays from 5:30 pm- 8 pm
Ages: All Ages
Fee: $275 – This program cost includes all costumes, scripts, props, rehearsal time, and one complimentary ticket for the performance.
This summer Drama at DeAngelis will be performing the new original musical, Killer Camp, written and directed by instructor Amanda Beveridge. This show combines music and laughter with the themes of a classic slasher film. Think High School Musical meets Friday the 13th!
Come to Camp Campa Murt for a summer filled with fun, friends, and a bit of fear! As the summer begins we're introduced to campers and counselors alike, but for some reason the head of the camp is nowhere to be found. Not to worry though, counselors Sam and Tyler are ready to kick things off for a thrilling summer.
Things seem to be going well, until after a night by the fire telling ghost stories there is a scream heard from the woods, and the newest counselor Vanessa is now missing in action. Will she be the last to go missing? Or is she just the first to be slashed this summer?
Follow these campers and counselors through a mysterious and scary summer adventure filled with screams, songs, and killer comedy. And don't worry that's not blood on their hands. It's only tie-dye! Will they survive the summer? Find out in Killer Camp this summer at DeAngelis Studios. All ages and experience levels are welcome to audition!
DeAngelis Studio of Music services (but is NOT limited to) the following areas:
Northeastern MA: Haverhill, Amesbury, Bradford, Boxford, Georgetown, Groveland, Lawrence, Merrimack, Methuen, Newbury, North Andover, Rowley | Southern NH: Atkinson, Hampstead, Kingston, Merrimack Valley, Newton, Plaistow, Salem
All are welcome! If you can get here, we will teach you!