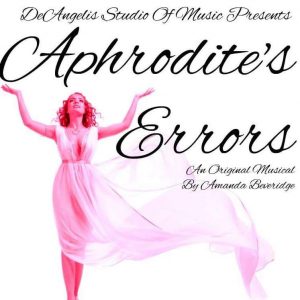 Auditions: Thursdays, June 21st 7:30pm
(please let us know about any conflicts, you can still participate)
Rehearsals:  July 12th– August 23rd
w/additional "Tech Week" rehearsals TBD
Time: Each Thursday, starting at 7:30pm
Performance:  Sunday, Aug 26th at TBD
Ages: 8+
Fees:  $275 for current lesson students | $295 for non students
Mythological mishaps and matters of the heart are explored in this new musical. Delve into the love lives of the Greeks through the eyes of a bewildered Aphrodite on trial for her errors! Is seems that love isn't always blind when it comes to spotting Aphrodite's Crimes.
The cost of the course includes all costumes, makeup, rehearsal space, two complimentary show tickets per family, script, props and more!
Students will not only work towards the performance at the end of August, but will also learn about:
Costuming & Makeup
Set Design
Stage Management
Teamwork
and much more! 
DeAngelis Studio of Music services (but is NOT limited to) the following areas:
Northeastern MA: Haverhill, Amesbury, Bradford, Boxford, Georgetown, Groveland, Lawrence, Merrimack, Methuen, Newbury, North Andover, Rowley | Southern NH: Atkinson, Hampstead, Kingston, Merrimack Valley, Newton, Plaistow, Salem
All are welcome! If you can get here, we will teach you!